Dan Hillier | 29 Apr 2020 | 3 min read
How procurement tech can stare down the corruption risk from COVID-19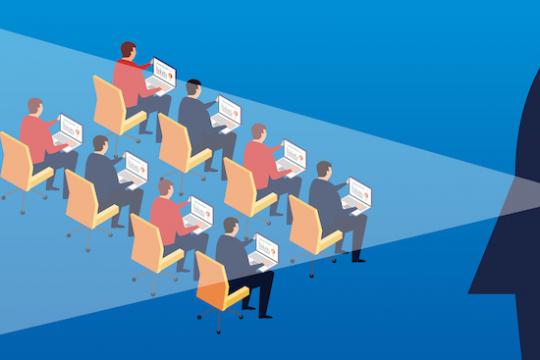 Now reading
How procurement tech can stare down the corruption risk from COVID-19
All over Australia, private and public-sector procurement teams have suddenly found themselves working alone and from home. Alongside the usual challenges involved with remote working, there's an added concern that's unique to procurement professionals: the risk to probity as buying organisations become even more decentralised than usual.
In early April, Western Australia's Corruption and Crime Commission flagged the risk that "the usual public sector checks and balances will be overlooked while resources are directed to the COVID-19 response and staff are working remotely". The Commission encouraged all agencies to "ensure good systems, processes, and controls are not overlooked while the government is working in different ways".
The challenge
I don't for a minute think the Commission is suggesting that the average procurement professional will turn criminal the minute they don't have a manager looking over their shoulder. Rather, it's about:
An unprecedented increase in public spending meaning more scope for error (and yes, more opportunities for corruption)
Maintaining the profession's extremely high standards of integrity even in a time of massive disruption
Ensuring compliant procurement processes are robust enough to endure staff turnover and prolonged absences
Remaining audit-ready through probity, compliance and full visibility
And, of course, any team that relies on paper-based or manual processes will struggle with remote procurement.
The solution
One answer to these challenges above is to put in place a trusted platform - such as VendorPanel - to support distributed procurement teams. Procurement software can enable social distancing by giving staff a high-availability SaaS solution that they - and their suppliers - can securely access from anywhere, any time.
Automate compliance: The best way to ensure compliance is to automate it. Individual procurement professionals should never be faced with a decision to be compliant or not - instead, use a platform that will take the decision away from them.
Look for a solution that comes with built-in probity and compliance tools that transform the concept of full visibility from a nice-to-have to a non-negotiable reality.
Don't build processes around individuals: Australia has successfully flattened the curve so far, but there's always the risk that infection rates will spike once again and your team will be directly impacted. For this reason, it's incredibly risky to rely on individual team members for their expert knowledge of policy, processes, or compliance - what happens if the office's go-to compliance expert is hospitalised? Instead, leverage a platform with built-in processes to remove the need to rely on any single person.
Increased spending needn't lead to corners being cut: An enormous amount of public money is currently flowing into the economy in a race to prop up regional and local economic development. The scale of it is simply incredible, and if we had to rely on paper-based or manual procurement processes, we'd quickly be overwhelmed. This would likely lead to corners being cut and mistakes being made, while there's always the risk of somebody somewhere attempting to take advantage of the situation to do something corrupt.
What you need is a system that doesn't care about volume. Even in a time of dramatically increased spending, VendorPanel will remain audit-ready by applying the very same controls around probity, compliance and visibility as it would with a business-as-usual volume level.
VendorPanel is an award-winning Source-to-Contract solution that makes it easy for staff to use the right suppliers, follow good process and to drive positive procurement outcomes. It brings all of your suppliers and associated data into one secure and configurable platform, with integrations that support real-time collaboration with people, process and systems across the enterprise.
Login
Please select your country to login
Register
Select country you want to register for
Ready to Know More?
Get in touch, we'd love to hear from you.