Create a standard, compliant plan when policy requires
Define and approve key details before going to market
Manage financial, legal and process risk from the outset
With Procurement Planning, you can ensure everything is properly organised before going to market. With it, you can collaboratively generate a timeline, set up the evaluation process, designate responsibilities, and manage any approvals required before sourcing.
Your Policy Guide can be used by buyers to establish whether a sourcing event triggers a planning process.
You can generate an assessment form for buyers when they are conducting a high-risk procurement event, triggered by your criteria. This form is customisable, with the output determining the procurement approach (such as strategic or transactional).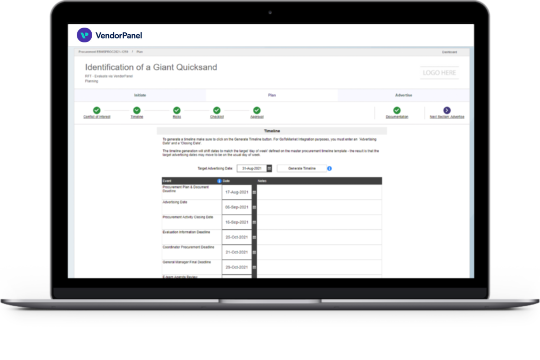 Once a target date is set, a timeline is dynamically generated. Specific timelines can be set up for different types of procurement, and easily configured with business rules.
To make sure buyers adhere to the procurement plan, you can set up a custom checklist for them to fill out at each stage. With Procurement Planning, you can ensure all requirements are met and any actions completed outside the platform are captured.